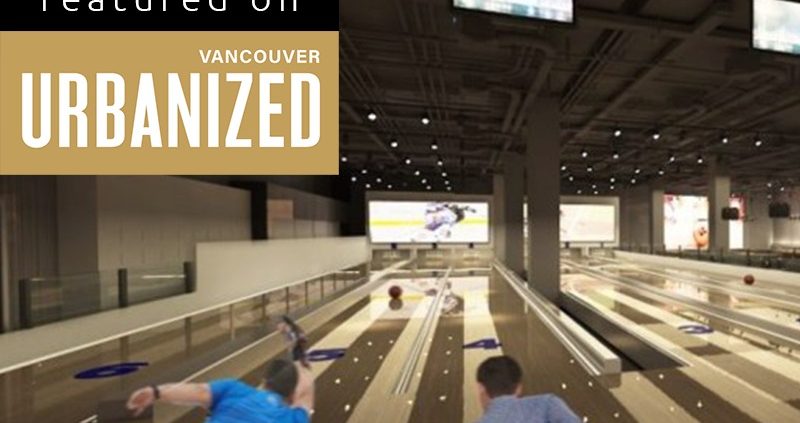 A new chic modern bowling alley destination will open in Central Lonsdale in North Vancouver next year.
King Pins Bowling shared on its social media that it will be opening at the beginning of January 2021 at 1312 Lonsdale Avenue.
The attraction is wedged into a 7,900-sq-ft underground space within Onni Group's 2017-completed CentreView mixed-use complex entailing 17-storey and 24-storey condominium towers on top of an office and retail podium, which includes a 40,000-sq-ft Whole Foods, Fitness World, and various other retail and restaurants.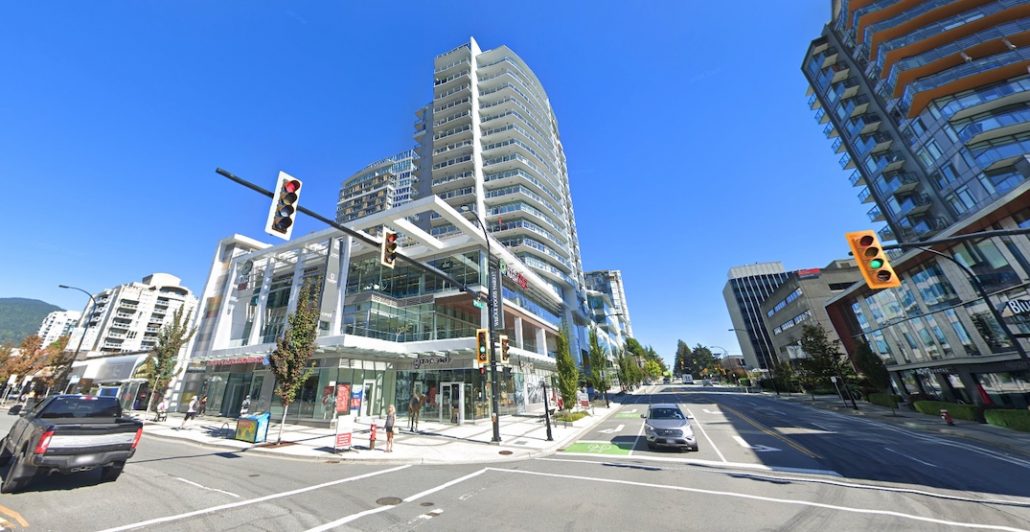 Proponents of the bowling alley narrowly received approval from city council in a heated public hearing in July 2017 that saw opposition from the complex's future residents, who suggested they would not have bought a condominium unit if they had known there were plans for a bowling alley. Public consultation was conducted on the application, even though the business was not required to do so.
There will be six regulation-size, 10-pin lanes, along with other activities such as pool tables. It will also be one of the very few spots in Metro Vancouver with a 12-ft snooker table.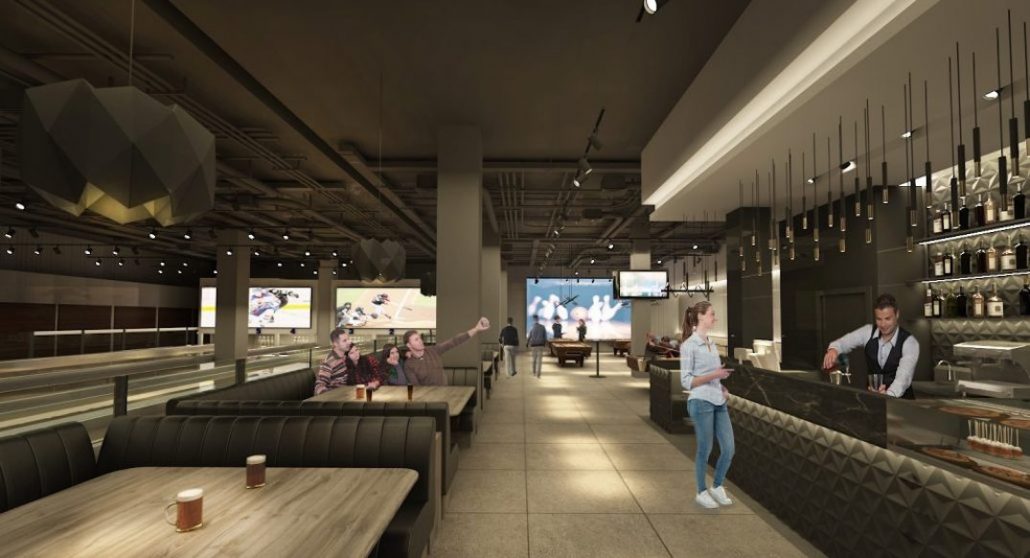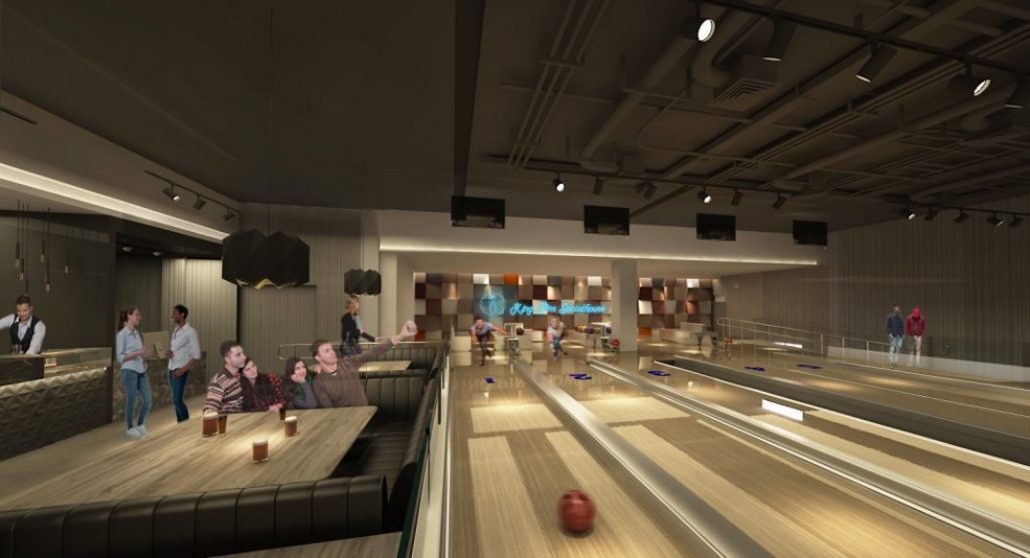 To the side of the bowling alley, a restaurant with a sitting area allows patrons to order food while enjoying their games. The restaurant is licensed for liquor service.
This is designed as a family-friendly attraction for all ages.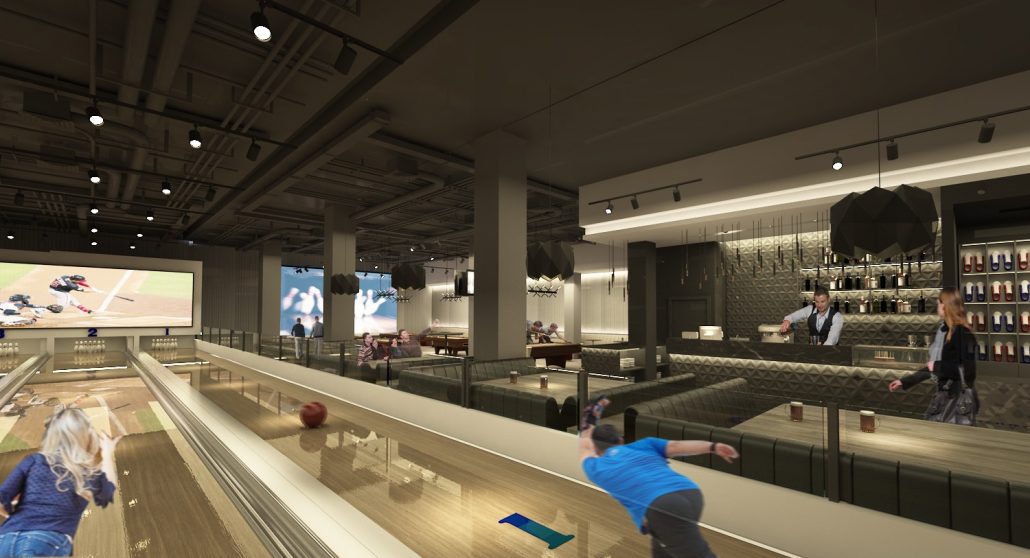 King Pins Bowling will fill in the void left by the forthcoming closure of the nearby longtime bowling alley at 141 West 3rd Street. Further south along the Lonsdale Avenue corridor, there are plans to close the existing North Shore Bowl five-lane bowling for Anthem Properties' new five-storey, mixed-use redevelopment with 57 condominiums and new retail.
Closer to the waterfront, Cineplex shuttered its Esplanade location at 200 West Esplanade last year, and earlier this fall Cressey Development revealed its proposal to redevelop the former theatre into a nine-storey building with 75 rental homes and new retail.
Cineplex Odeon Park and Tilford also closed shortly after, leaving the new Cineplex at Park Royal shopping centre as the only North Shore location for the national theatre chain.
Across the inlet, new Cineplex Rec Room entertainment and dining complexes will open at The Amazing Brentwood shopping mall in early 2021, and on the Granville Entertainment District in downtown Vancouver in late 2021.
Source: dailyhive.com
https://kingpinsbowl.ca/wp-content/uploads/2020/12/WhatsApp-Image-2020-12-19-at-00.05.10-1.jpeg
800
800
admin_kingpins
https://kingpinsbowl.ca/wp-content/uploads/2020/12/KING-PINS-NEON-8.png
admin_kingpins
2020-12-18 21:24:35
2020-12-18 21:25:36
Kingpins Bowling Featured on Vancouver Urbanized